Introduction
Here at Mountain & Tradition, we are looking towards a greener future. On this page, we detail all the efforts that we are undertaking to play our part in making our business eco-friendly.
Our company commitment
We (Raph, a native of Les Gets, along with his wife Jana and their friend and colleague Ashleigh), strive to reflect our eco-friendly way of life in our working environment. Having all grown up enjoying skiing and snowboarding in the mountains, and the great outdoors in general, we are aware that, without action, this may not be an option for future generations. The environment has given so much to our lives and to our business, it is only fair that we now help to protect it.
Creating the finest chalet holiday experience possible is at the core of our business here in Les Gets. Efficiency, productivity, an open and honest working culture and sustainable development are just some of the elements that have ensured Mountain & Tradition has kept its reputation of excellence since it was created in 2008.
Recent steps
Our properties

Here are some of the steps that we've recently undertaken in an effort to become a more ecological employer and holiday provider.

Our Chalets Eco-Rating is calculated based on multiple factors including:

The general building of each property
The insulation of each property
The heating and electric consumptions
The year of building
The quality of appliances and equipment
The location of each property

The Alpine Lodge (Eco-Rating: 8.4/10)

New, well-insulated chalet
Heated by a brand-new pellet boiler
Efficient, smart-controlled heating system

The Alpine Loft (Eco-Rating: 7.1/10)

New, well-insulated chalet
Heated by a brand-new pellet boiler
Efficient, smart-controlled heating system

Les Suites de l'Alpe (Eco-Rating: 7.4/10)

Four new, well-insulated properties under one roof
Electric heating controlled
Smart-controlled hot water system
VMC double flux
New swimming pool in with heating pump system, fitted in 2021

Chalet Novelin (Eco-Rating: 5.4/10)

Indoor hot tub
Time-controlled sauna

Chalet La Rocade (Eco-Rating: 4.1/10)

New closed fireplace fitted in 2021

Our catering

The quality of our catering is something we're very proud of. But we're also very aware that food (and in particular food waste) are significant factors in the damage human beings are doing to our environment.

Here at Mountain & Tradition, we always serve seasonal produce, sourced locally. Everything we serve is homemade, from fresh ingredients. To minimise food waste and make production as efficient as possible, we have centralised our catering into one state-of-the-art industrial kitchen. (Find out more about our catering here).

In order to reduce our plastic waste, we've also equipped each of our accommodation with a soda stream. Our Guests can now enjoy the fizziest, tastiest, and most eco-friendly sparkling water, tonic water and soft drinks all made via the soda stream (with syrups).

Our operations

We have extensively reorganised our operations to make them more environmentally friendly.

Waste & Recycling

Centralised rubbish collection

Guest relations

Welcome speech to encourage compliance with eco policies
Company ethic agreement linked with the Terms and Conditions of each holiday

Food waste

Reducing and reusing food wastes wherever possible

Reducing avoidable breakages

Addressing avoidable breakages in staff training
Implementing a maintenance plan for all equipment and assets

Recruitment

Eco-responsibility is a key criterion for the recruitment of staff

Staff management

Ensuring that staff procedures are sustainable and easy to follow
Devoting significant attention to company ethics and procedures
Rewarding staff for eco-friendly behaviour

Our tools and equipment

When replacing tools, equipment and infrastructure, we always favour environmentally-friendly replacements. Our delivery and maintenance vehicle is now electric. Similarly, we now use eco-saver ovens in our centralised kitchen.
What is the EU Ecolabel Accreditation?
The EU Ecolabel is awarded to products and services that meet high environmental standards throughout their life-cycle. It offers detailed guidelines for any business that is looking to lower its environmental footprint, via an environmental management system (EMS). Through third-party authorities, EU Ecolabel can guarantee the implementation and maintenance of all adopted systems.
How does Ecolabel help us improve?
While we have put in place countless systems and actions throughout our company lifecycle, adding an EU Ecolabel is our way of ensuring that we are operating from the best possible, and most current, guidelines. Some of the key areas that EU Ecolabel is involved with include:
Reducing the environmental impact of the company
A review of company procedures, with an aim to improve worker safety
Ensuring that the company adheres to the environmental regulations that are in place
Setting targets, so that there is sustainable progress into the future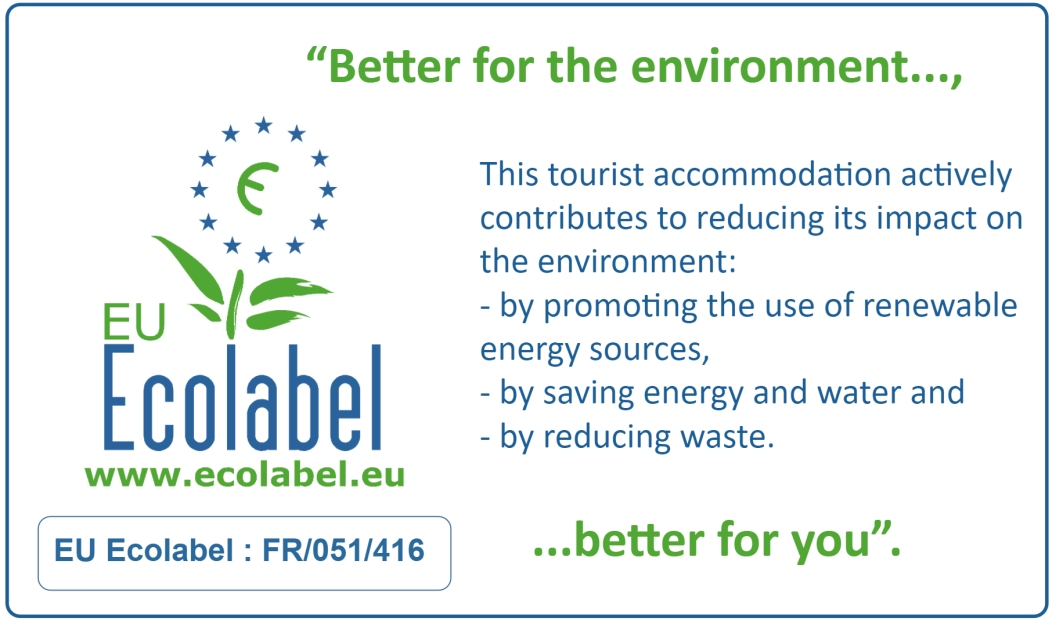 Who has certified us?
Whilst the EU Ecolabel certification is done by Afnor Certification, we've been working in collaboration with Certification QSE — a certification consultancy firm. Our personal advisor is Lauriane Moiraud, based in the neighbouring town of Morzine. So far, Lauriane's knowledge, of both the certification process and the local environment, has proved invaluable to us.
Our Company Environmental Policy
Since the founding of Mountain & Tradition in 2008, we have aimed to constantly improve not only our quality of service but also our production systems. When our workforce is smiling, so too are our guests. We aim to achieve this through not only an open and honest work culture, but also through the creation of effective procedures based around our eco-friendly ethos. Find out more about ourEnvironmental Policy.
We understand that not every activity within our company can be 100% eco-friendly, and that is why we wanted to ensure we're doing the best we can, with the help of EU Ecolabel.
Our environmental management system
Our environmental management system enables us to improve our performance permanently. It also gives us a framework to work from in implementing future procedures.
Some of the systems that we are currently undertaking include:
Controlling our consumption of energy, water and raw materials
Reducing general waste
Improving the quality of the chalets and reducing their overall footprint in collaboration with their owners
Reducing food waste in the chalets
Prioritising local and seasonal products in the preparation of our meals
Following environmental regulations as closely as possible
Setting up environmental awareness and training plans for our staff
Communicating our environmental actions to our customers
Openness and transparency
We endeavour to communicate all aspects of our environmental policy with both our team and our guests. We want this to be a collaboration, not a directive. If you have any questions at all about the process of our accreditation or our any aspect of our environmental policy, we'd love to hear from you.

Our Products & Suppliers
Getting the right suppliers is something we put a lot of time and effort into here at Mountain and Tradition
What is Les Gets resort doing for the environment?
Les Gets is continually working to improve its ecological footprint, and has long been raising awareness of the issue. You can find more on the official Les Gets Ecotourism page.
Our top 4 ways Les Gets is preserving biodiversity and nature in the area:
What are our partners doing?
Another aim in applying for Ecolabel accreditation is to showcase to our partners and suppliers that we are looking to minimise our environmental footprint. We hope this will encourage other businesses to take similar steps.
Pure Experience

Magasin | Les Gets

PUREXPERIENCE is one of the few sports shops in Les Gets that places being environmentally responsible at the heart of everything it does. Proudly a member of the global movement 1% FOR THE PLANET, PUREXPERIENCE donates 1% of its turnover to projects that protect and restore the environment. All the brands and suppliers that PUREXPERIENCE works with, have been chosen for their commitment to the environment, hence we have partnered with them. For more information, visit their website...
L'occitane

Cosmetic | Provence

L'occitane is a very famous cosmetic brand, which have a very strong environmental policy, based in Manosque (Provence). They see nature as their model and draw inspiration from the natural properties of plants to drive innovation. They strive to purchase local produce whenever possible, in order to reduce their carbon footprint and support local business, prioritising short and local integrated channels when sourcing their key ingredients. For more information, visit their website...