Chalet Catering Deliveries 2020-21
Changes to our Winter Chalet Holidays for 2020-2021
Due to resurgence of COVID-19, and the increased levels of social distancing required, we are have made significant changes to our chalet holidays for this winter, to give you hassle-free catering whilst reducing your contacts.
This is only for winter 2020-2021, and for winter 2021-2022 we'll be back to running our fully catered and hosted chalet holidays like normal.
Change #1 - Whole chalet bookings only
We will not be providing shared chalets this winter. We usually sell The Alpine Lodge, our flagship chalet on a room by room basis. For this winter will will only sell it on a whole chalet occupancy basis.
Change #2 - No hosted catered chalets
We will not longer be able to run our traditional catered chalet holidays with chalet hosts in the chalet with you. Instead, we'll be offering our chalets on a self catered basis, and then you can add-on a meal delivery services for the days you would like.The idea here is to remove the close contact a chalet host would bring by being in your chalet for extended periods.
How the meal delivery option works
Our chalets are booked as self-catered, and you can add on meal deliveries for as many days as you would like. We can provide your breakfasts and evening meals. When you arrive in the chalet we'll have stocked it with all the breakfast essentials such as milk, orange juice, cereals, butter, jam and yoghurts. Then each morning we'll deliver freshly baked baguettes, croissants and pain au chocolates. For evening meal you'll get two delicious courses, all full prepared ready for you to pop into the oven, serve and enjoy whenever you would like to eat. We'll do the deliveries each morning and leave it all at your front door to reduce the social contacts.
Ski Holidays without Ski Lifts
Les Gets village is open and welcoming tourists despite the ski lifts being closed. Click here to find out more about the winter holidays in les Gets without ski lifts.
Our optional catering add-on
Same delicious cuisine. Delivered for you to enjoy.
The 2020-21 ski season will be unlike any other. We've created a wonderful new catering add-on package that gives you great cuisine with zero effort, whilst reducing your contacts.

Breakfast
Start the day right. Two delicious breakfast options, each including freshly baked bread and pastries.

Main Evening Meal
A culinary event of fine regional cuisine which everyone can enjoy. Menu design by Head Chef Raphael.

Dessert
Your evening meal can include a delicious and indulgent dessert, straight from chef Raphael's kitchen.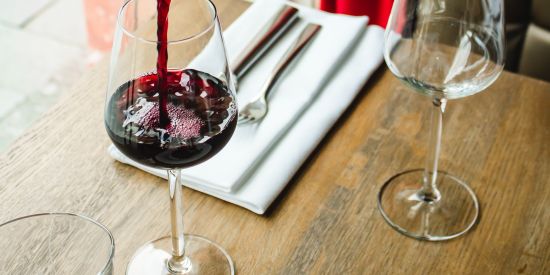 Wine & Beer
Included in our fully-catered chalets. Booking self-catered with meal deliveries? Ask us about adding drinks, too.
Restaurant-quality meals delivered to your chalet
The 2020-21 ski season will be unlike any other we have experienced. And our first priority has to be the safety and comfort of our guests. That's why we have reluctantly decided that we can not provide chalet hosts this winter.
But we can still provide catering options. Since 2013, we have been offering flexible meal deliveries for families who have booked self-catered holiday but prefer not to cook. This winter, we will be offering this same flexible option in our own chalets.
Less time in the kitchen. More time for you.
In these strange times, everyone wants to stay safe. But nobody goes on holiday to spend time in the kitchen or the supermarket. That's why our self-catered holidays this winter all come with a meal deliveries option. The same famously delicious meals, just delivered to you with no need for a chalet host. Read how it works...
Maximum safety. Minimum effort.
We feel that our meal deliveries package is the safest option for our guests. Without a chalet host, there is much lower risk of infection. But there is also much lower risk of your holiday being cancelled or becoming impractical. With only one private group together in the chalet, we think our guests will be best placed to avoid any complications if rules and guidelines change over the winter months.
How does the food delivery option work?
Morning Delivery
Ready for breakfast
Start the day with fresh bread and pastries, straight from our ovens. Both of our breakfast options come with daily bakery delivery!
Evening Meal
Zero effort
Choose your dinner daily from our online à la carte menu. Our delivery man will happily deliver at the time of your choosing between 17:00 to 20:00 everyday. Simply pop the dish in the oven, serve and enjoy.
Breakfast
We have two options for breakfast, Daily Bakery Delivery or a Continental Breakfast Hamper (with bakery delivery).
Option 1: Bakery Delivery
€4.00 per person per day. Includes freshly baked baguettes and croissants delivered daily.
Option 2: Continental Hamper
€6.00 per person per day. Includes the following items in your chalet on arrival:
Yoghurts
Butter & Jam
Cereal
Milk & Orange Juice
And freshly baked baguettes and croissants delivered daily
We recommend pre-booking your breakfast before your arrival in resort. If you would like to add breakfast to your reservation, please just let us know. Please note; that either breakfast option needs to be taken for your entire stay.
Evening Meals
Our evening meal delivery service is called Tartif, run by our Head Chef Raphael, he will create a changing daily menu based on the local products he receives from our suppliers. Dishes could include our famous Tartiflette and a hearty Burgundy Beef.
We offer complete flexibility to ensure your holiday is hassle-free. Our evening meal delivery service provides freshly prepared delicious dinners, delivered straight to your chalet door. Enjoy your evening meal in the comfort of your chalet any night of the week!
Have us stock the fridge
Drinks chilling for when you arrive
Drinks Delivery Add-on
As part of the food delivery option, we also deliver alcohol and soft drinks. Just let us know what's your tipple and we can have your pre-purchased drinks in the fridge for you. Refills on request. Cheers!
Drink Options
Kronenbourg beer
Coca-cola
Tonic
Mas du canal white wine
Mas du canal red wine
Mas du canal rose wine
Frequently Asked Questions
Is there a chalet host?
No. With this unique food delivery option, there is no host with you in the chalet. We pass the savings on to you to offer the best possible value.
Who cooks the food?
Meals are freshly prepared daily in our Les Gets kitchen. At dinner time, you just need to pop the main dish in the oven, serve and enjoy.
Do I have to do a full week of deliveries?
No. Want to order just 2 or 3 nights? No problem! Want to order every night, sure thing! We offer complete flexibility, only order as and when you like.
What's on the menu?
Our changing daily menu will be based on the local products the chefs receive daily from our suppliers. Dishes could include the famous Tartiflette and the hearty Burgundy Beef
Alcoholic beverages
Order your drinks before you arrive and have your fridge stocked on arrival with house wine and beer. Need a top-up? No problem. You can purchase additional drinks at any time throughout your stay.